Pillar Baptist Church's Logan Robertson (L) and Brisbane Islamic leader
Ali Kadri in an argument outside Darra mosque on Thursday.
Three self-styled Christian "Baptists" have been charged after allegedly trespassing and verbally abusing worshippers at Brisbane mosques.
The trio face charges of public nuisance, entering a premises with intent and trespass, after the incidents at the Kuraby and Darra mosques on Wednesday and Thursday.
On Wednesday, they were accused of entering the Kuraby mosque and harassing worshippers inside, including teenage boys.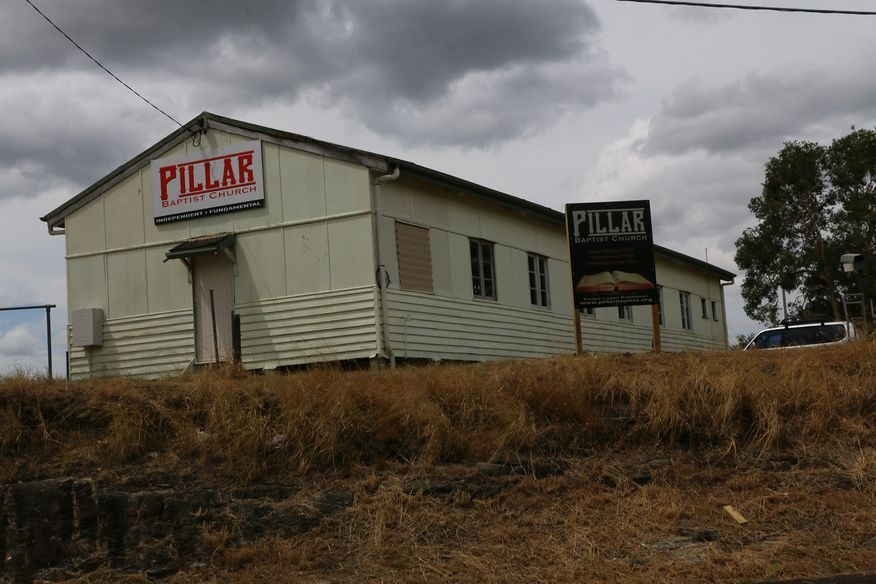 Police asked the church members to leave, before seizing video equipment and mobile phones from the group.
The entire incident on Thursday was captured by local television crews.
Mr Kadri said: "I'm trying to talk to you in a nice manner, why are you responding in such an aggressive manner?"
Mr Robertson replied: "Because I hate the religion of Islam. I don't hate Muslims, I hate the religion."
"We're making a documentary about your false religion. That's what we are trying to do."
The Pillar Baptist Church is not affiliated with the Queensland Baptists or Australian Baptist Ministries.
Acting Superintendent Craig Morrow confirmed the church's pastor was among those charged.
He said it was possible more charges could be laid.
"Investigations are still ongoing. There's a lot of video material and recorded CCTV we need to go through and inquiries we need to make," he said.
"Every person has the right to express their views, but the matter in which they've gone about that is not acceptable."
"We hope by taking action quickly like we have, and assuring the community that we won't tolerate this behaviour that this will be a deterrent in itself."
Another of the men charged is 29-year-old Steven Albany.
Acting Superintendent Morrow said the trio was arrested after searches were conducted at properties in the Bellbird Park, Redbank and the greater Brisbane area.
The group is due to face the Holland Park Magistrates Court on July 25.
Editor's note: Readers will note that the Baptists appear to be of the fundamentalist variety and the not mainstream variety which is the majority in australia. if the pictures are an accurate depiction of the state of the church buildings, they certainly don't indicate prosperity as opposed to the signage and landscaping of the kuraby mosque
QUEENSLAND BAPTISTS - THE MAINSTREAM BAPTIST ORGANISATION IN AUSTRALIA- responded and that response can be seen here. seems to the editor that, as well as trying to spread hate and bigotry, the leader at pillar baptist church is trying to make a name for himself and it is not a good and reputable name.
----
Our hearts go out to the good people of the mosques in Kuraby and Oxley who suffered from 'christian' extremists. We stand with you.
We condemn all such acts of spiritual violence but especially those perpetrated in the name of Christ. We call upon the denominational authorities of these particular individuals to act clearly and decisively in making sure this does not happen again.
Sadly once again in the lack of reporting around this event the media have shown their white, western, 'christian' bias.
Shameful!
Fr Rod.